Halloween started out as any other normal day. Colored my hair (okay so I don't do that every day), went to Target and even dared to step foot in Party City (Don't do it- the place was mobbed). Put 2 kids down for naps since I knew we'd be out late and dh took one as well. Got everyone dressed, put all costumes, extra clothes, drinks, pumpkin buckets, etc in the car and we were on our way to our friends home for pizza, TOT'ing and ice cream sundaes.
After dinner we got everyone in their costumes and all 14 kids (not including baby Tybee) went TOT'ing. It was a mob of kids. By the time we were done with one house the rest were already onto the next. Bella got a Tootsie Pop from someone and proceeded to try to eat it wrapper and all. It was inevitable that she was going to get to it though so I took it off and she had at it. That was a sticky mess but one she enjoyed thoroughly.
It was so flipping HOT outside. Can we not get a nice, cool Halloween for once? The kids were sweating, the parents were sweating. Yuck. Next year I'm bringing water for my three. Spiderman (aka Logan) took off his mask he was so hot. Ian wouldn't let us take off his fireman jacket though. I asked several times. It wore them down pretty fast. They got tons of candy though and lots of chocolate (yay for me! LOL). We went back to the house to cool off and get some drinks and they stayed behind while some of the others went off again. They were just fine with changing out of their costumes and staying in the A/C.
We let the kids play some more and make some ice cream sundaes before heading for home. Bella was on a sugar high. It's really no wonder- lollipop, ice cream, cookies... she surprised me when she didn't fall asleep on the car ride home. Got them to bed and dh and I went thru the candy. Had to make sure there
was enough chocolate for us
weren't any needles and all that in the candy. There was one surprising give away in each bucket though- a little envelope of used stamps from all over the world. Hong Kong, USA(several styles), England, etc. Interesting. Maybe they thought it would get the kids into stamp collecting?
I took a ton of photos of our night so here you go!
This was our mob.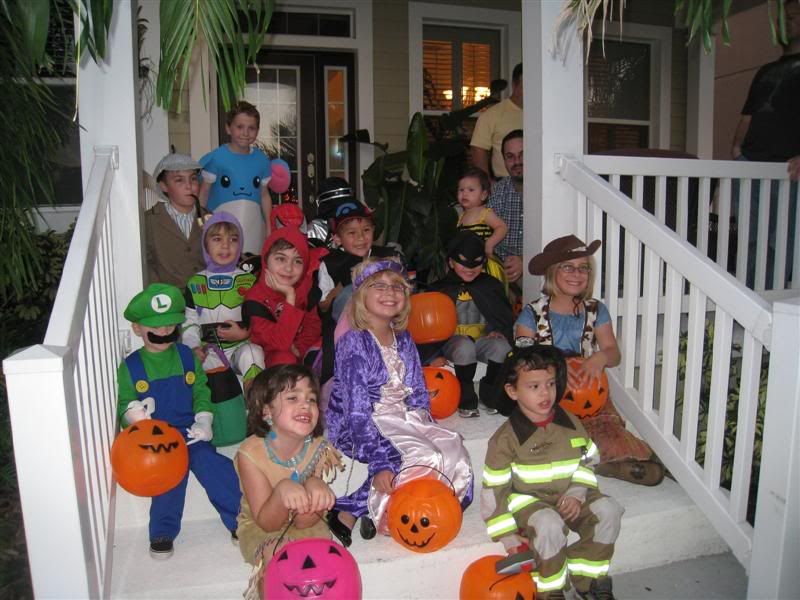 My little fireman.
She's ready to go!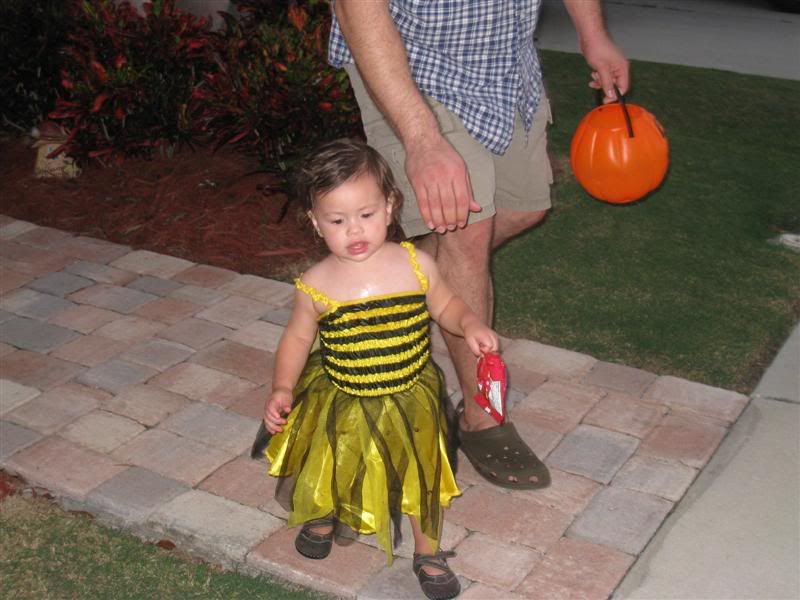 Take a good look because you don't get to see me in pics very often!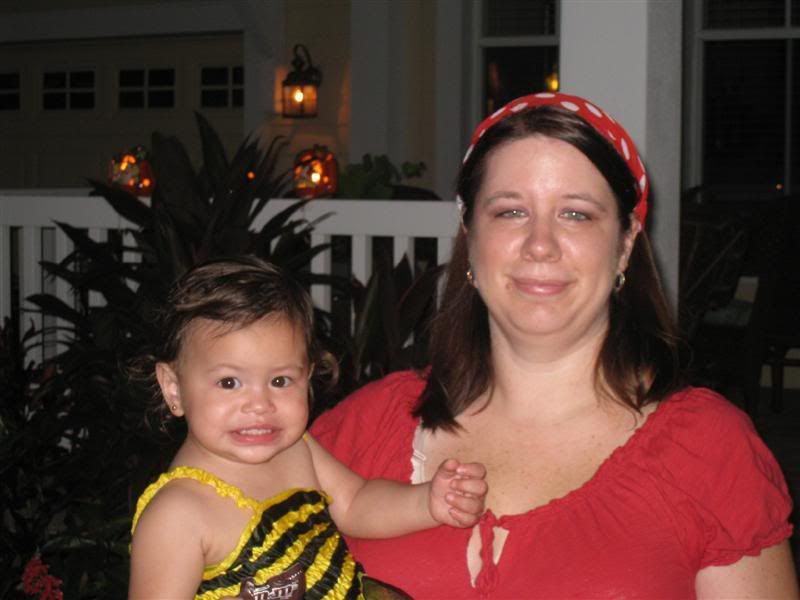 That Spiderman is Logan.
My beautiful family.
Excuse the Cheeto.
Still all sweaty from TOT'ing.
Alex, Trey and Logan