It's little ole me...back from wherever I've been lately. My operating system crashed and it's been so long since I've blogged that when my dear hubby put Windows 7  (which rocks btw) on my PC I forgot to even bring my blog back up as one of my pages. *gasp* I also update everything on Facebook and forget to come here too. Sorry.
Can you believe it's almost Christmas? We put up our tree earlier this month. That was interesting. The boys wanted to help decorate so we handed them the least fragile ones and it seemed they all ended up on 2 sides of the tree, maybe even on just a few branches. I tried not to pay attention to the fact my tree was so bare everywhere else but I couldn't do it. I ended up redoing the whole thing myself after they were done. Thankfully they didn't seem to mind.
This is what happens with the wrong camera settings, lack of light and any movement. I kind of like the lights effect though.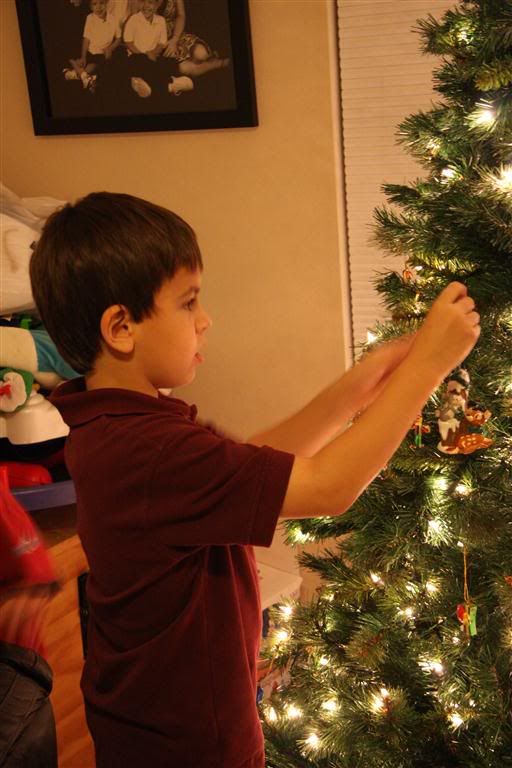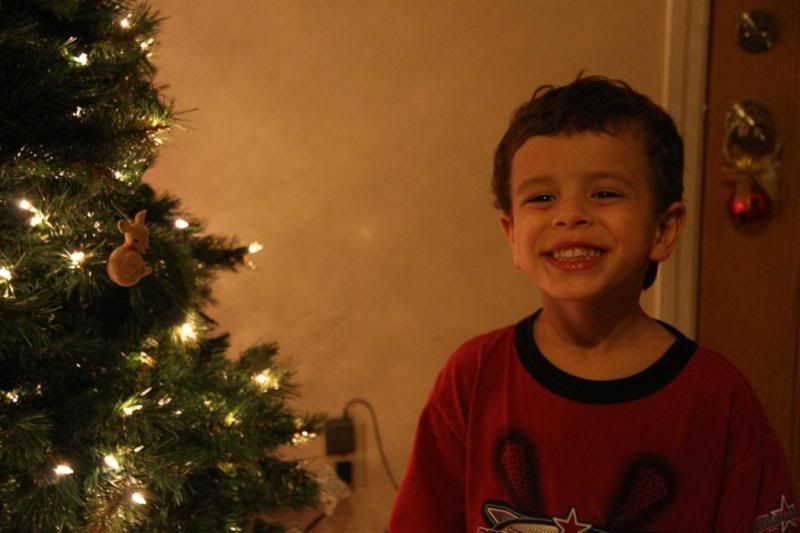 My princess....look at how big she's gotten!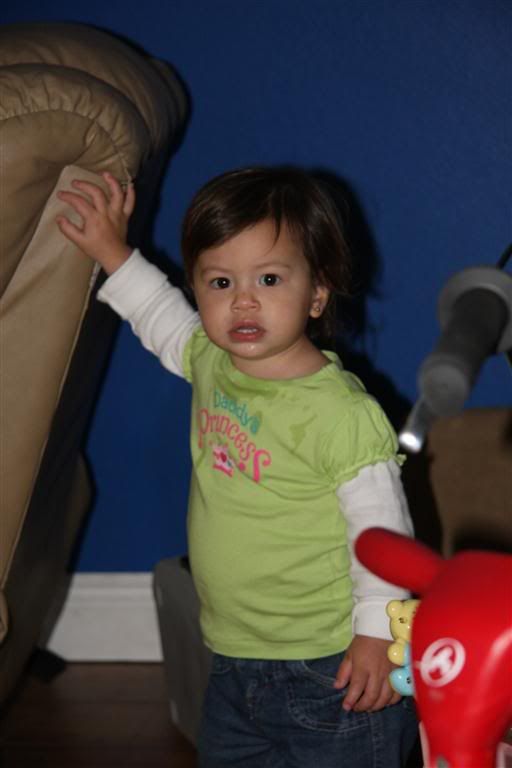 Ian had his Christmas party last Friday and dh was on vacation so when I was asked if I could volunteer in the classroom ALL day I jumped at the chance! I left the Bella-boo with dh and spent all morning making reindeer food (oatmeal, glitter, colored sugar) with Ian and his classmates. They also made *gingerbread* houses out of paper bags, decorated cookies, made candy cane beaded ornaments, read Christmas stories, did a book exchange and played some Christmas Bingo. Afterwards we sent them all out of the room (it was raining so we couldn't send them outside) so we could clean up and set up for their Christmas party which all the parents were invited to. The kids have been working on a gift for us all year long which was a fingerprint calendar. Very cute! Logan made one of these for me when he went to Pre-K there. They also gave us some handmade ornaments. Those are the best! The kids sang 3 songs for us they've learned and then sang their blessing song (Johnny Appleseed - 1st verse only and then Amen) before we all ate some lunch. Dh and Bella brought the chicken nuggets I was assigned too (hehe) and I was glad he could be there.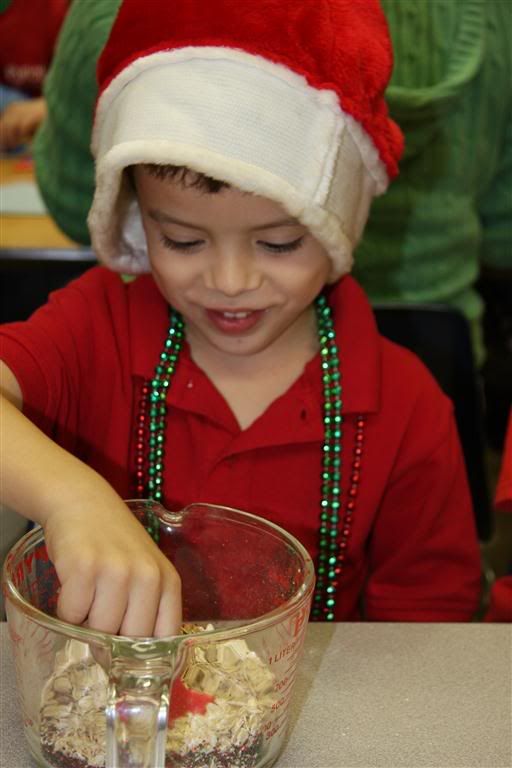 We also made a trip to the mall to see Santa and Mrs. Claus. Never again 2 weeks before Christmas. I'd rather go the day after Thanksgiving. We waited at least 1hr 20min. The boys were bored and antsy. Bella was tired of sitting in her stroller and when I finally did let her out she was into everything. She pulled *snow* off the displays, tried pulling power cords that weren't hidden, tried pulling ornaments off the trees...We finally make it to the front of the line and I just know this isn't going to go well. She's had no time to warm up to this perfect stranger couple and as I walk over to them with her in my arms she's already grabbing me tighter. I let the boys get settled with Santa and hand Bella to Mrs. Claus and she's now screaming and trying to get away. Yes, I'm a horrible mother and bought that picture. She was tired and hungry to boot. I bought my very much overpriced picture and we took them to Cici's Pizza for dinner. She refused to sit in a highchair so dh held her the entire dinner. She was just out of it I guess since she missed her afternoon nap for this event.

And that's all that's really happened here so far. My Christmas shopping is done I think. I may need to run out and get one more gift card. Almost everything is wrapped. I'll be back with more in just a few days.
Merry Christmas!