Today we headed over to Downtown Disney. The boys love the
T-Rex Cafe
but since it costs so much we don't do it often- only for special occasions. We decided before we left that we'd do drinks, one app (because I was hungry!) and dessert. We let the boys get *special* icy/slurpee type drinks in huge dinosaur bone cups. They were so tall that both had to put it on their chairs to even reach the top of the straw.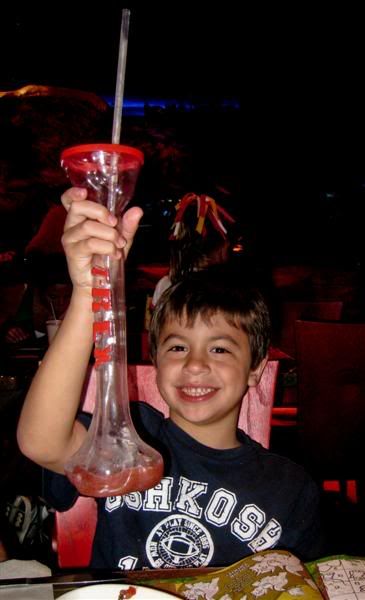 Our appetizer was delish! We got the Brachiosaurus Bruschetta which I need to learn how to make it at home. Yum! Grilled eggplant, tomato bruschetta, toasty bread, herbed goat cheese and balsamic vinegar. Just typing it is making me want some more!
The waiters sung to Logan when they brought out our dessert, the Chocolate Extinction. Four huge slices of 2 layer brownie/cake with caramel in the middle, vanilla ice cream topped with whipped cream and all of it topped with Butterfinger crumbs. Sooo good. It comes out with a martini looking shaker in the middle that they fill with water and dry ice. He even gave us the shaker to bring home. The website says it feeds 2 or more people and the five of us couldn't finish it all! We brought an entire slice of cake home.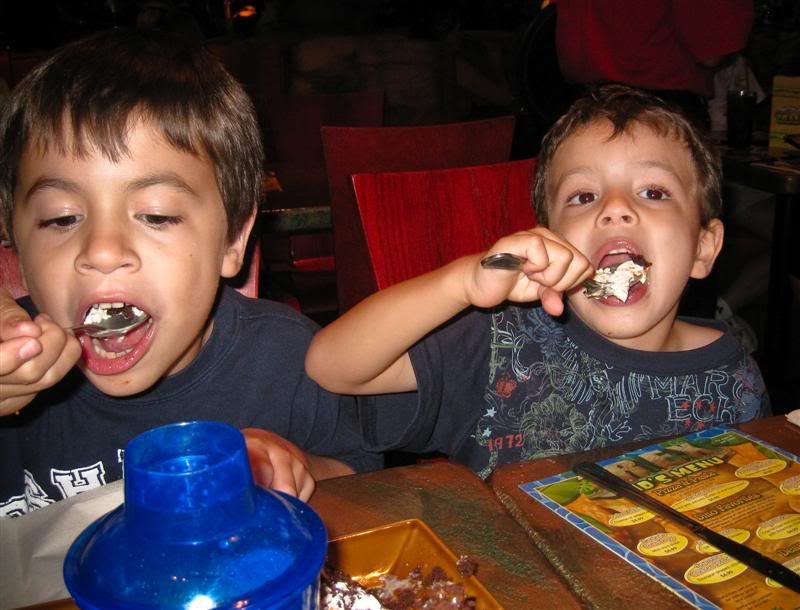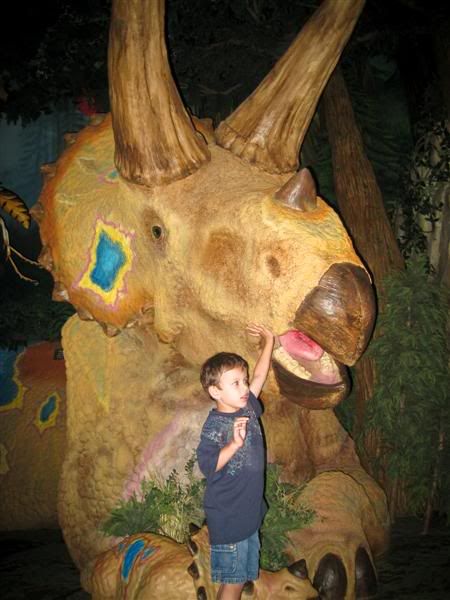 We stopped by the T-Rex store and the Build-A-Dino store. Bella found a mini mammoth she just loved so Daddy ended up buying it for her. :) No matter what dino we showed her she just wanted that mammoth.
(It was bright outside)
The Lego store was next of course. The boys make some Lego mini-figs (people) and filled their cups up again. Daddy spoils them. He's been putting aside some extra money just for this occasion though. Bella and I played Peekaboo while the boys were shopping.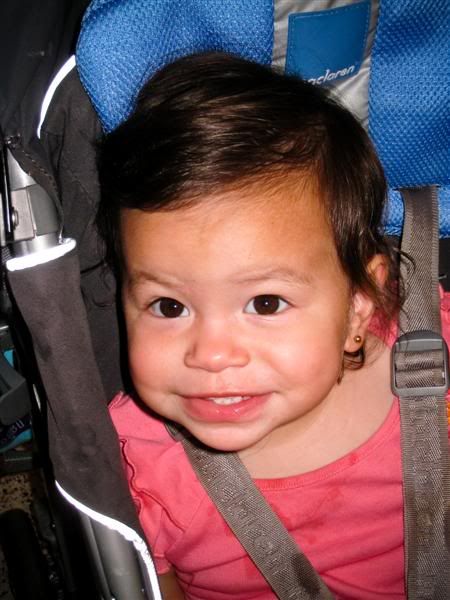 After that we just wandered around. We had never been to the Pleasure Island side of DTD so we walked over there and then down by the waterfront. It was a hot day but there was a nice breeze down by the water. We let the boys ride the little train ride they have there. Logan was bored after about 3 laps around the little track. :) Not sure what he was expecting. Thunder Mt RR it's not! Walked about some more before decided it was time to go.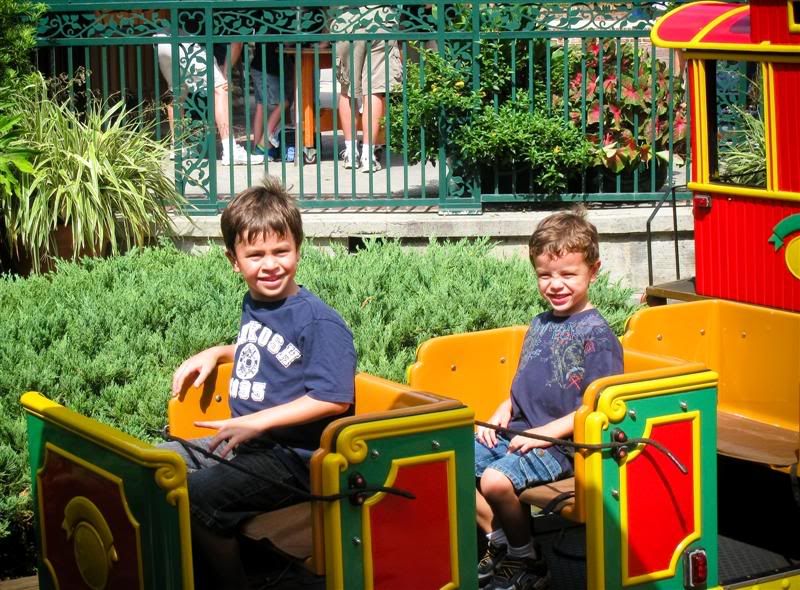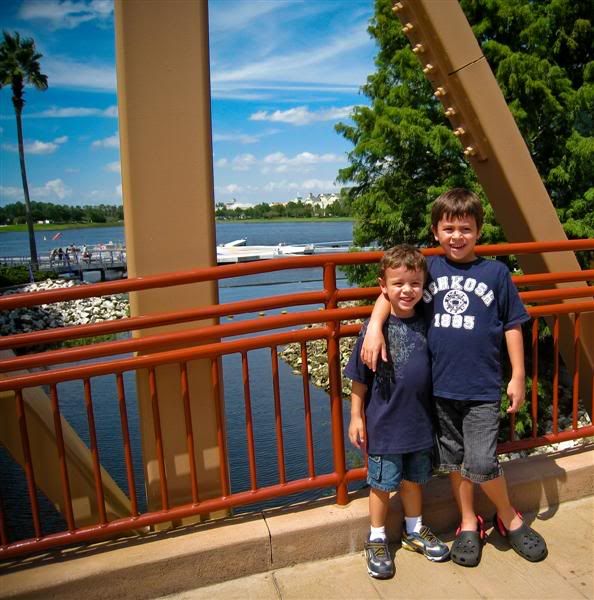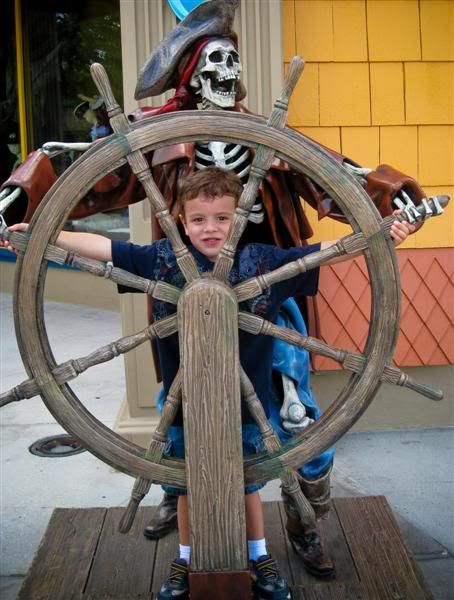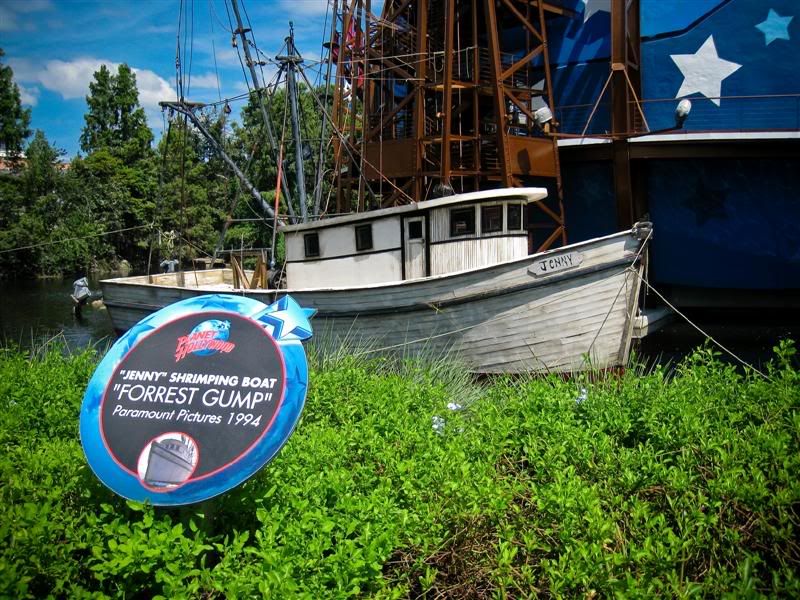 Bella was an unhappy camper so we stopped by Taco Bell for dinner before heading home. Nothing like feeding a family of 5 for under $18. :) Her attitude turned around pretty quickly once she got some food in her and she was my happy baby once more. The boys have been playing with their new Legos since we got home and Bella enjoyed the freedom of running loose for a while before bedtime. She was pretty cooped up all day be it in a stroller or highchair.
Tomorrow is another adventure! We're going to find a new bike for Logan. Wish us luck!