My throat is killing me(got a cold and living on Airborne) but at least the noise level has been reduced from yesterday. I thought I might lose my mind. Since dh was working late, I couldn't retreat to the bedroom either. I was never so glad to see bedtime roll around.
Anyway, I thought I'd share a few pics today.
Here's the way the new room is coming. The drywall is up and they've been taping, "mudding" it up and sanding it down for a couple of days now. They've also come out and chiseled and cracked away all the stucco "brick" from around the existing windows on the front of the house to make way for new windows. The new windows are slightly shorter since they don't make our size anymore so they have to build up the bottom.
Looking at the doorway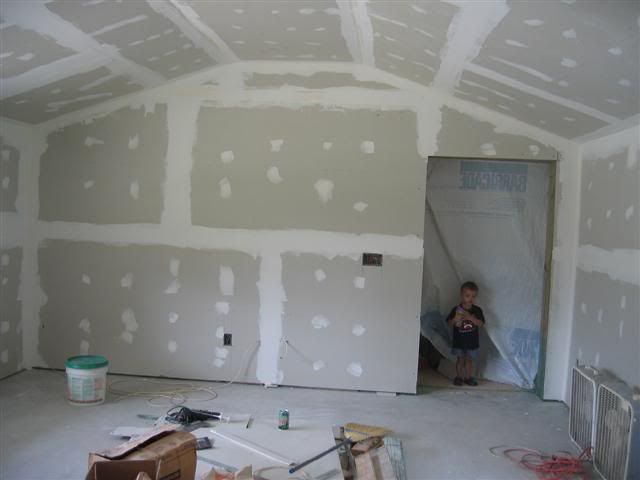 Big picture window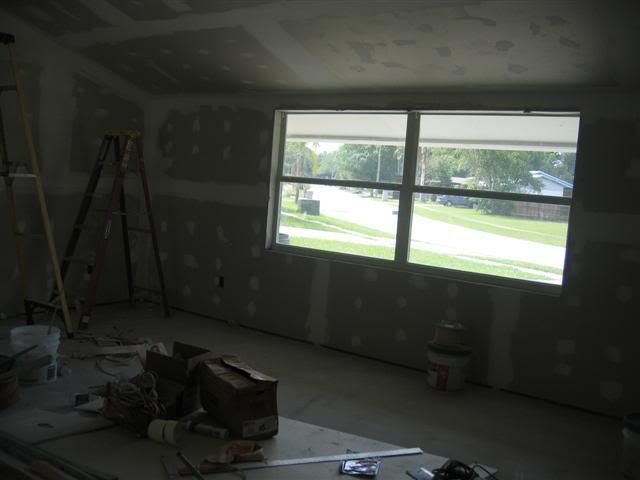 Opposite wall from the doorway
Close up pic of ceiling shape (no attic)
It's coming along!! Slowly but surely.....
Here's a picture of Ian at swim lessons yesterday. He and Mr Thom were fooling around.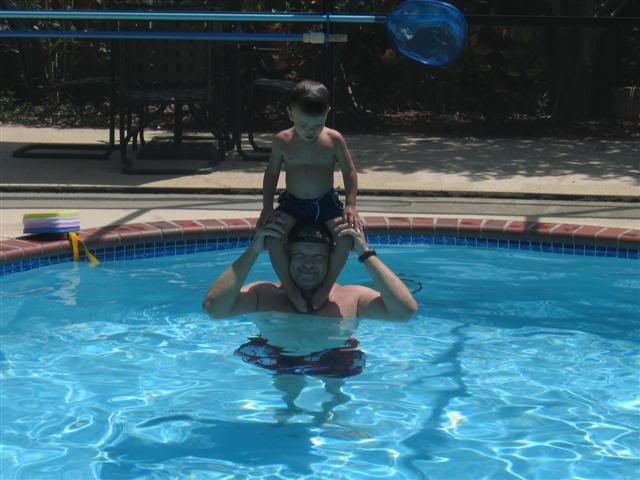 I'm trying to upload a video but it's taking forever on YouTube so I'm uploading it somewhere else now. Short story while I'm waiting, Thom and I were talking yesterday and we were talking about candy. I mentioned dh worked for a candy company and he asked if I knew K.L. I was like Yes! This guy didn't work with us but with a partner company. I knew someone else he mentioned too. I just think it's such a small world that we both knew people in this huge town. He and this guy K.L. used to be BFF back in the day. I got his # for Thom and hopefully they can get back in touch before or after Thom moves away.
Ok, so let's see if my video worked (nope it didn't, trying again....).
Click here to watch "Ians-swimming-lesson"
And one more of Logan being pushed in the pool with all his clothes on. It was to see if he would panic with clothes on or not. I was very proud that he didn't. He was none too happy that this happened (very put out) but he got over it very quickly.
Click here to watch "Logan-Safety-Swim-Test"