I haven't blogged in a few days so this will be a mish mash (is that a word?) of things.
Let's see.....Friday night we went to the zoo for Summer Safari Nights. The weather was looking very bad- tons of lightning in the distance as we were driving towards the zoo but luckily for us, it moved past us so we had a good time. They opened a new penguin exhibit which we didn't see. The line was ridiculously long. We did see a lot of other animals though and the kids all had a great time. Julie and I like to people watch and boy did we see something. I'm not sure what this woman was thinking but I'll let you look and decide...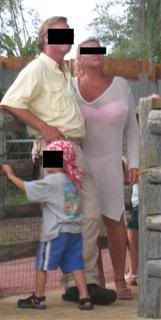 While I'm glad she's confident in her body, this isn't something I'd expect to see at the zoo!
Before it did start raining on us, I did get a few shots of the kids.
Ian on the carousel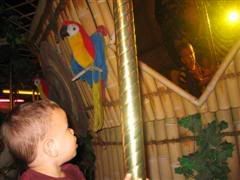 The gang of older kids
And the double rainbow!
What else... Logan went to bed with real underwear on last night. Wow and yippee! He's been very good at staying dry all night (knock on wood) but he still feels dependent on his Goodnites. That will be over by tomorrow though. He has none left.
Oh yes, my BOC (see a few posts back). Well, my real BOCs have shipped so I can't tell you what I got yet, but I did get my Roomba which we've named Mickey (mouse) courtesy of Logan and I got my BBCBOC from the Babycenter gals. Here's what was in there...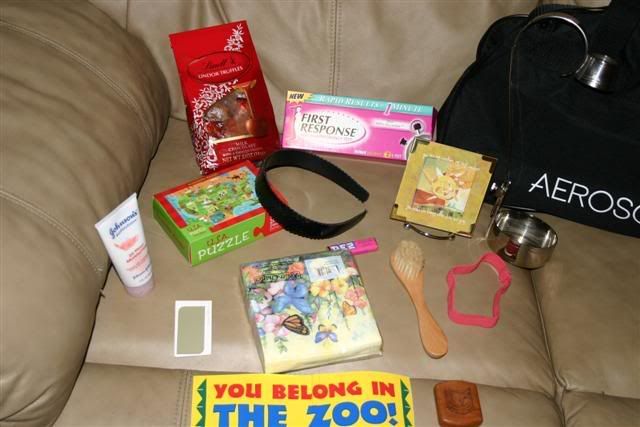 Want me to list everything? Good. LOL
Johnsons Lotion, Caraway seed paint sample, butterfly napkins, Atlanta Zoo bumper sticker, brush, pink stretchy band, wood owl thing, USA puzzle, hairband, pez, Lindt chocolates (obviously melted Oops!), 1 pregnancy test, You are my sunshine plaque with stand, Aerosole tote bag and wine pourer with handle. Lots of good crap! LOL I can't wait to see what 's in the real BOC.
The boys are doing so well in swimming. I'm very proud of both of them.
A few swimming pictures:
Ian
Logan just after he jumped in.

Oh and one more pic tonight... me! I'm at my lowest weight so far- lost 74.4lbs.

Here's a BEFORE picture

I have around 12lbs to go to my goal weight. I've gone from a plus size 18 to a 10. It feels good.