We had a fun holiday. We went to our little hometown parade which is always fun. The kids get so many beads and tons of candy. So much more than they'd ever get at the big city parade here. We had to keep telling Logan to turn around bc he'd be looking at everything in his bag and missing the parade and goodies. Between Logan and Ian, they got a bag full of candy and over 50 bead necklaces. Wow! The weather held out for the parade too although it was drearily overcast the entire time. At least it kept the heat down. After that we went to a friend's house for a BBQ. We did a lot of talking and played some cards. It was nice to sit down as couples and talk too vs one set of parents watching the kids while the others talked. The weather finally broke and it stormed. Nothing unusual for a typical FL summer day. The boys were so tired upon leaving. Ian even fell asleep in the short drive home. Fireworks were going off right outside their windows after bedtime and they didn't hear a peep.
I'm sure I gained 5lbs this week

(ETA: I only gained 1 -woohoo!)

between all the parties/get togethers I attended. Ugh. Glad tomorrow starts a new week!
Pictures....
Crazy teen next to us who was putting ALL the beads he and his friends got onto his neck. I bet that was heavy!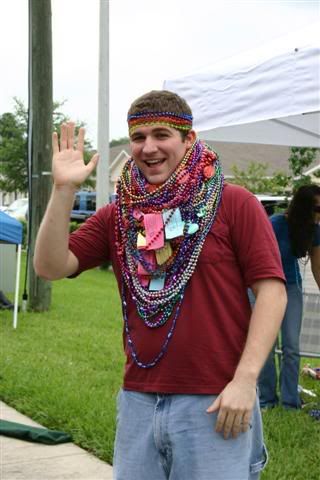 Best of Friends! Jen & Me
More best friends... Logan and Trey
Daddy & Ian
The whole gang of us... (John and Zane off to the left and barely seen, Evan off to the right LOL)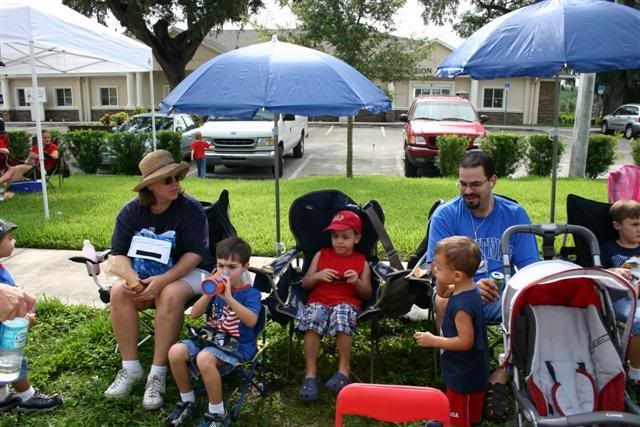 House news!
The new windows are in! The stucco was dropped off today and we thought they were going to start that today but I guess not. The walls inside will be textured on Saturday and hopefully painted on Sunday if I can think of a color. It takes me weeks to figure this stuff out and they want me to do it in a few days. Argh.
Here's our concept. We want to make this a family movie room. We have a large screen TV and surround sound already. I want this to be a fun room too. I'm thinking Disney/Pixar movie posters on the walls and bright painted walls. The paint I keep eyeballing online is called Frank Blue by Sherwin Williams (#6967) or Honorable Blue (#6811) with everything else trimmed in white.
We still can't decide on flooring though. The echo is the room now is terrible but I know once there's furniture it won't be so bad. We keep going back and forth on what we want in there.
What else...swim lessons are coming to a close. I think we have 1-2 more and that's it before Mr Thom moves away. :( I made him a nice little photo album of the pics I've taken over the past 2 years at his pool. I think he'll like it.
We took soccer pics last week. Here's our team and Logan's indv. pic.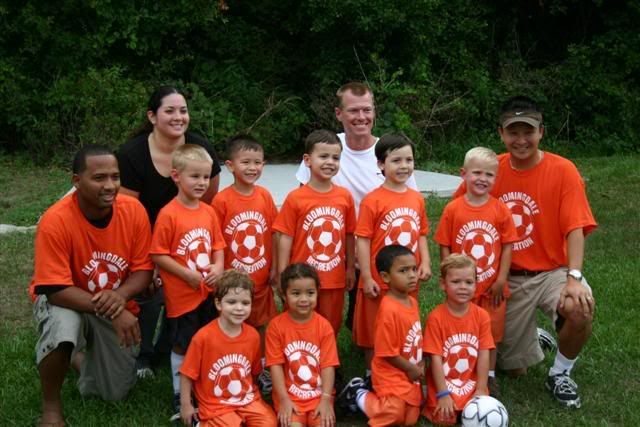 And a few more just for fun pics to make you smile.
Googly Eyed Ian
May the Force be with You!
Arrr me hearties...it's pirate Ian Sparrow (sorry it's blurry- gotta catch it quick)