Finally. Today was the day. I was running around like a crazy person this morning. I had to decorate the cake and smash cake, run to the store to have the balloons blown up, go to Publix and get the drinks and ice and stop in Walgreens to pick up the photos for the favors since our printer didn't have the right ink last night. I got home and people were just getting here so I got started a wee bit late. I'm so glad I got all the baking done and the frosting made yesterday.
Everything went well though. Bella looked cute as a button in her birthday dress. We had a simple spread- make your own sandwiches and chips and dip. That's it. I bought 2 loaves of whole wheat bread and dh didn't think people would like it. I went ahead and grabbed a loaf of white at the store this morning. Guess what went first? Yep, the wheat. Now I have to run to Costco again to get more for our family! I made fresh onion and ranch dips too. Yum! I barely got any they went so fast. Note to self- buy more food for the next birthday party!
I got a ton of compliments on my desserts. I made a vanilla Giant Cupcake with fresh strawberry frosting for the general party goers and a mini one for Bella's smash cake. I also made Bakerella's cupcake pops in chocolate. Time consuming they were but so worth it! They came out so cute!
Giant cupcake- REAL strawberry frosting. The cupcake liner is actually some vellum paper.
See all the bits of strawberry in there? Yum!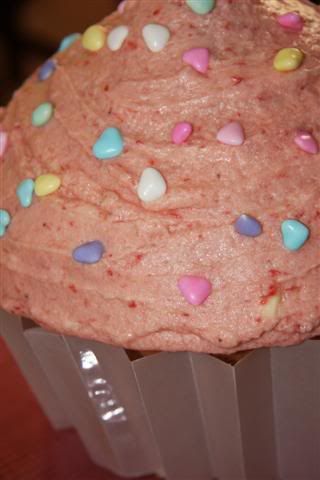 Bella's appetite has been off the last two days. She barely ate anything yesterday and only had a banana today and a few tiny bites of other stuff. Needless to say she didn't do a lot of smashing or eating her smash cake. Oh well. We had pics from her actual birthday of her enjoying a cupcake. I made her cupcake smash cake from scratch. It's this recipe from Martha Stewart. The frosting is from that recipe as well. It was good! For her high chair decor I bought a simple chocolate brown towel to cover the usual navy blue cover and made her a pink tutu. She looks so tiny still in her chair.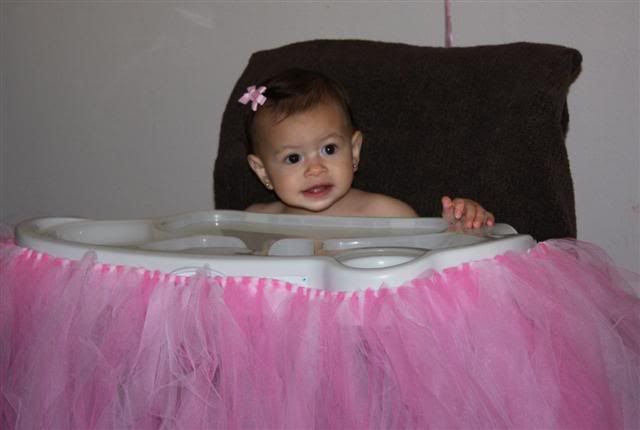 This give you a better idea of just how big the *mini* giant cupcake is.
My niece enjoying a cupcake pop.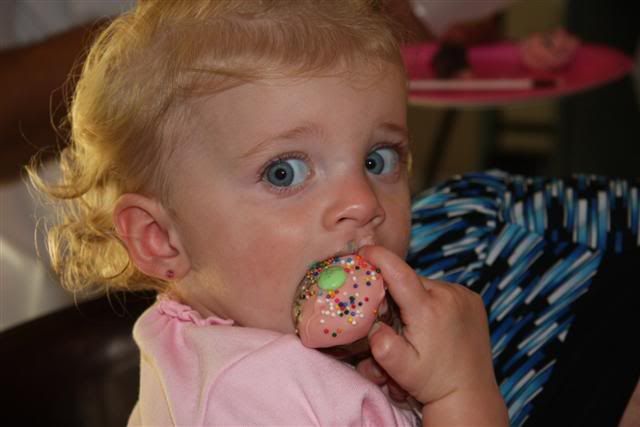 I love this photo of her. I think it will go up on our wall.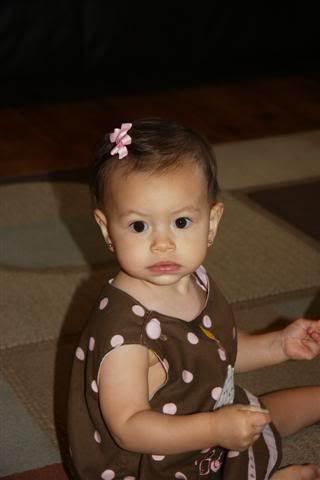 One of MY favorite gifts of the day. My dear sweet friend Julie knitted Bella some cupcakes!! How sweet are they?!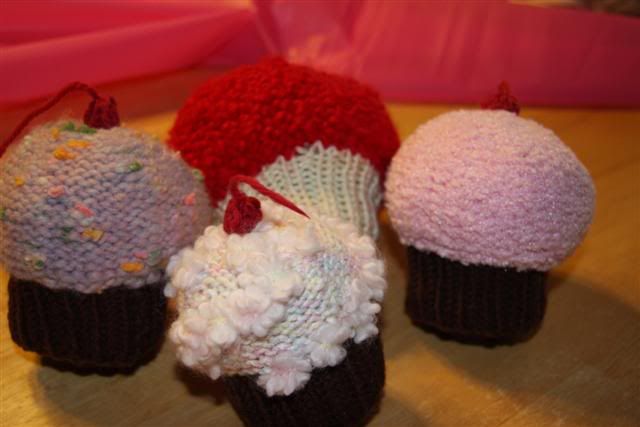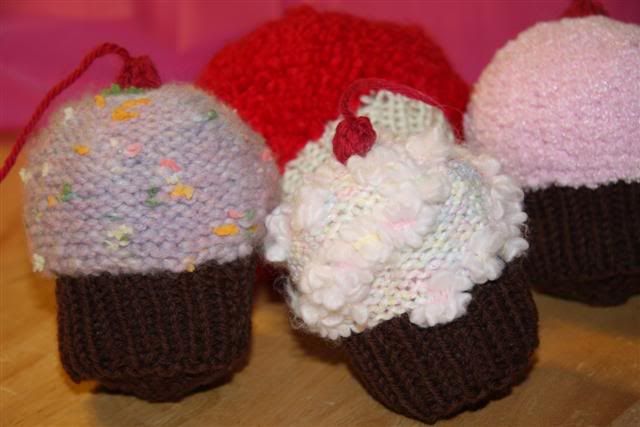 Bella seemed very taken with her Tinkerbell card. That's my girl! ;) I love Tink!
Pulling Minnie Mouse (not a gift) out of her new stroller/walker.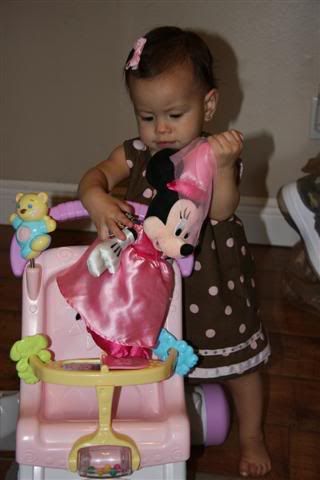 Of course you know babies, they'd much rather play with the wrapping paper and packaging than the actual toy!
Her balloons. Did you know Party City will blow them up for you for a nominal fee? It was cheaper than buying a helium tank myself!
The party favors. The pictures and holders were for each family to take home and the goodie bags for each kid. There were 3 *flavors* of photo holder although only 2 are pictured (chocolate is missing). Goodie bags had Hershey Kisses (pink from Valentines), a cupcake bookmark, cupcake birthday stickers and a Krazy Straw.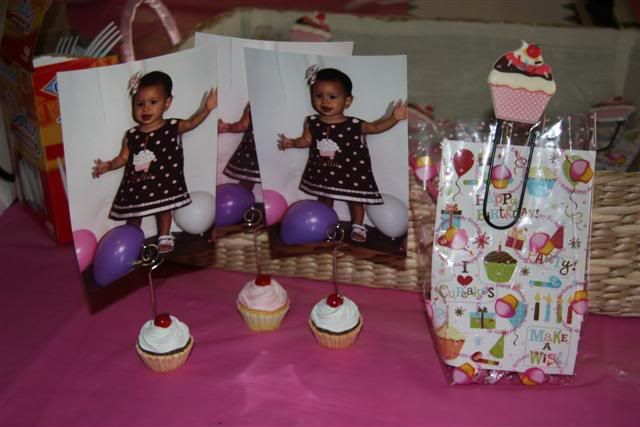 Her party was a huge success. Everyone seemed to have a good time. Bella missed her afternoon nap so she was exhausted tonight. I still can't believe it's been a year since she was born. Time seems to go by so quickly. Thank you to all my friends and family who came today. Love you all!!