School is in! My big boy went off to 1st grade this morning and my little man went off to VPK (Voluntary Pre-K). Getting up early this morning wasn't as hard as I thought but maybe that's because I was tossing and turning all night. You'd think I was the one going to school this morning and getting all anxious.
Ian was ready to go at 7:30am. He told Logan I was dropping him off first which would be impossible since his school starts an hour later so I had to disappoint him in that. We did head out around that time though to take Logan to school. I really hate back to school traffic. It backs up due to the new light they installed at the end of the last school year. Then you add in allll the parents walking their kids in for the first day that won't usually walk them and it's a madhouse. Thankfully it will calm down in the next few days. We ended up parking at the recreation center across the street and walked over. Logan walked right into his class, found a seat at a table of all boys (the other table was all girls!) and was right at home.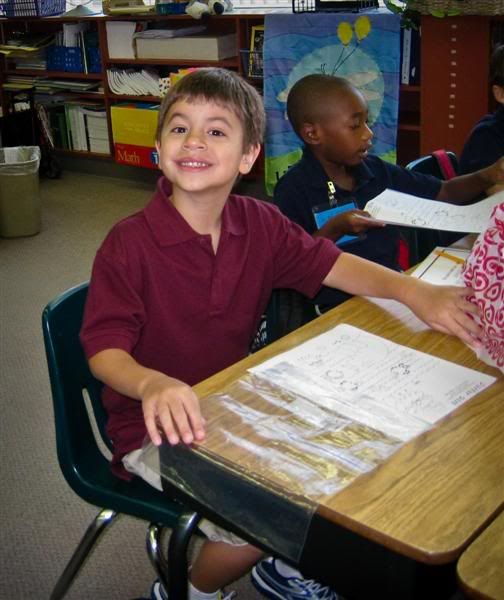 A little while later it was time to take Ian to school. He walked in and started playing. He was a bit shy at first with his teachers but he did what they asked. He had no issues with me leaving him there either.
:( My little boy is growing up! At pick up time he got a good report and I was able to squeeze a few tidbits about his day out of him.
We picked up Logan after that (told you I'd be spending a lot of time in/out of the car!) and he had a good day as well. He attempted to tell me about some of his day but Bella wouldn't let him get a word in. She was singing in the back seat. LOL
So our first day is done. We're going to go out to eat tonight to celebrate and have some family time and we'll be back to the grind first thing in the morning.