Our morning started out hot and humid. For the 4th year in a row, we headed over to our town's Independance Day parade. It's always hot, sweltering hot and humid but we always have a good time and bring home a ton of necklaces (over 60 this year), flags (11) and candy, candy, candy. Today was no exception. Every once in a while there was a slight breeze and I had plenty of cold water on hand and misty fans to keep cool.
This year we were lucky in that we met up with a couple of friends and hung out with them (thank you Karen for sharing your shade tent!). Before the parade we were able to walk down the block and get a free bicycle helmet for Ian thru the local All Children's Hospital as well. Very nice because he needed one. I also learned how to properly use it.
Here are a few pics of our morning:
Our group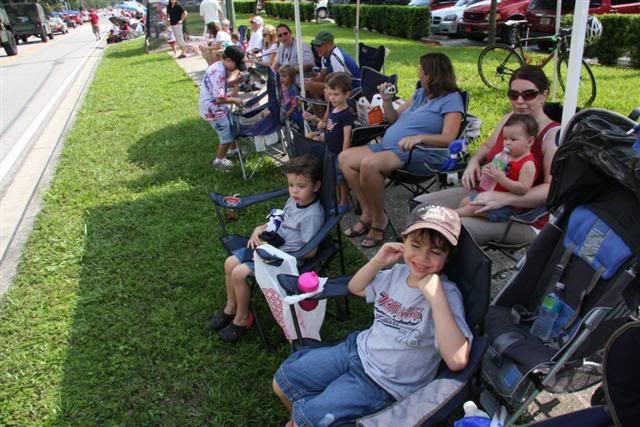 Yes, that's a real helicopter!
Shriner clowns
Hot and sweaty baby
R2D2
All the kiddos minus Bella
L-R:Trey,Shawn, Logan, Evan, Ian, Zane, Joshua
After we came home and showered we headed off to MIL's house for some food. She has no A/C and I dread going over there- especially on a hot July day. Ugh. To top it off she smokes in her home when there is noone over and it reeks. It's disgusting. I love her to death but I hate going over there. We stayed for about 2 hours and I'd had enough. Bella was tired and I was HOT. Came home, took another shower and bathed all the kids AGAIN, put Bella to bed and got the boys in their pj's. About 8:40pm I sent dh and the boys off to the mall area to watch the fireworks while I sat here and blogged and then watched the Macy's fireworks in HD on the big screen. Ahh fireworks in the air conditioning. LOL They just walked back in the door and poor Ian missed the whole thing. He fell asleep in the car. He's exhausted. In fact, while sitting here watching the fireworks with them on tv, I just looked over and he's asleep again. Off to bed he goes!