(Stole that from Racheal Ray LOL)
Some GFs and I went to Bern's dessert room last night. It was soooo cool!! When you walk in, it's dimly lit by these lanterns that give off a orange/red hue and there's a bunch of portraits on the wall, a huge mirror and a marble staircase. You go to the back and upstairs and the rooms in the dessert room are made from these huge (HUGE) old wine vats(barrels). We had a semi private room with a door. On the wall is a phone to call the live musician and a buttons to listen to different types of music. We each picked something chocolate and tasted a bit of everything and they were oh so sinful! I got a chocolate cheese pie which was like a choc. cream cheese mousse with homemade whipped cream and choc shavings. Mmmm I also got the most sinful tasting iced coffee- I barely tasted coffee it was so sweet and creamy. So much for the flex points! I bet I used enough for 2 weeks. LOL I brought a banana cheese pie home for dh and it was YUM-O!! (To the girls who went- it didn't fall apart in the car like I thought- it was half a banana I saw that I thought was cake in the dark). After dinner, we took a tour of the kitchens and wine cellar. That was really neat! I could watch the kitchen staff forever. The grill holds over 200 steaks at once and uses only charcoal (no gas/propane). They have 2 huge circular aquariums for their fresh fish(they only had a small window but we watched this huge fish swim by). The wine cellar was cold inside! Everything is labeled by the Dewey Decimal system just like the library. There's a "rare" room with bottles of wine that go back to the 1800's and range from $300 to $10,000/bottle. It's the pic with all the bottles in plastic. The plastic is there to protect the labels in the high humidity of the room since they are so old.
It was just a very fun night!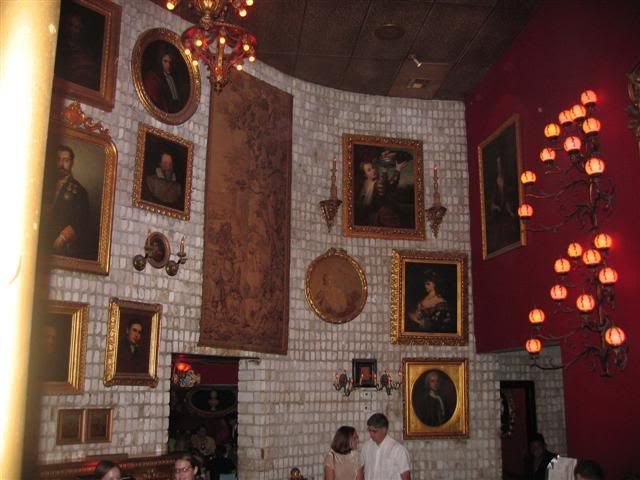 Range of sizes
Me before leaving Saturday morning (in my new size!)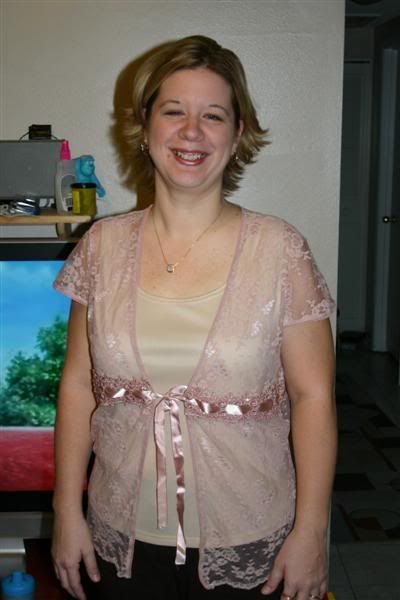 Boredom
I went to the seminar with dh yesterday. Yawn! I guess it wasn't all bad bc I do have snippets of info in my head but it was def. more for Primerica people than it was for me or other spouses. Not something I want to do again. I was told it was at a golf club so I'm thinking a country club- something nice. Yeah, it wasn't. It's in the boonies of Odessa at basically a trailer park (or modular homes- some of which were nice looking) where they have a golf course. It was the Silver Dollar Golf Club and we were in the "rec" room. I was a bit more dressed up than needed for sure! Oh well, I got cute new clothes for it! LOL The boys did fine with my mom. I still hate leaving them. Ian got his first shiner while I was gone though. :( Logan was tumbling and hit him accidentally. He was happy to see me when we got home and clung to me for a while. Too cute! I am blessed to have 2 beautiful boys.
First shiner: