Here's the first...
Bella got to meet Santa for the 1st time. She had no issues at all and I didn't think she would. She mainly wanted to squirm around to see who was holding her or to grab Mrs. Claus' earrings. Ian was a bit shy at first but once he saw I wasn't leaving him, he was okay. Both he and Logan told Santa what they wanted and gave him a big hug.
(Btw, there was NO wait time! This was around 4pm-ish tonight)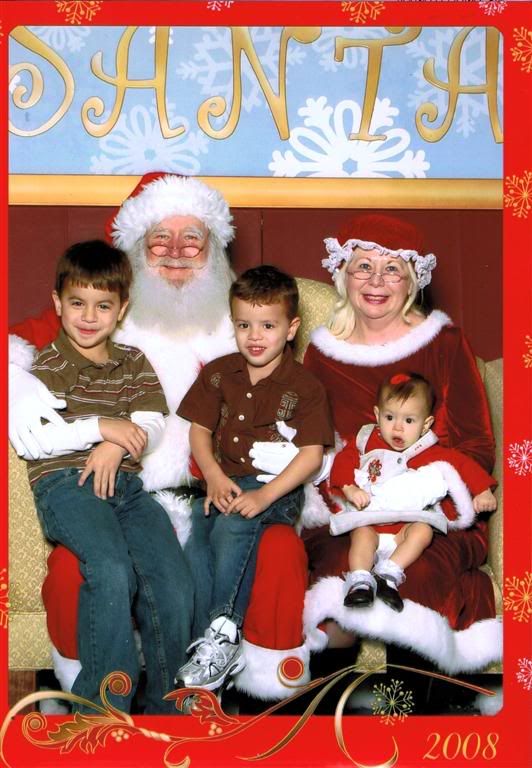 And can you see the other one? Look closely.
She got her ears pierced! We went to the Piercing Pagoda and had them done. She was super squirmy while they were marking her ears but I held her tight when they pierced her. She barely made a peep. Daddy was more freaked out then she was. LOL The other sales lady and the customer she was working with were both surprised that Bella didn't scream or cry. They had no idea we were even done yet. She said she should have videotaped the whole thing to show other kids how easy it is. LOL I think it's harder and maybe more painful (even if it's just in your head) when you do it as they get older. I had mine done at 13. Hated the wait and thought it hurt like hell.
She did however cause mischief elsewhere. We were in Hallmark and I wasn't paying attention to what she was doing. I just didn't think about it. I was wearing her in my O&A on my front and she grabbed one of their metal tree displays holding the stuffed reindeer and pulled it over. Ugh. Dh had to pick it all up. I guess she really liked the look of those reindeer!