I got a yucky tummy bug on Tuesday and I'm getting better but I'm not 100% yet. I had dh take Logan to tumbling tonight so I could hang at home. I'm supposed to be cleaning but then who will watch Bella? ;) Heaven forbid I stick her in a playpen!
So here are just a few catch-ups from this week. We got to see the space shuttle Discovery go up on Sunday night. Beautiful launch! We didn't actually go over to the Cape but we were able to see it just fine from way over here. We're a good 3 hour drive from the Cape on the other coast so it's really neat to know we can still see it! Unfortunately my SLR camera had an issue (easily fixed) but I wasn't able to take photos with it at the moment so I had to run and grab my little P&S so that means quality isn't the greatest, especially at night with the long zoom.
Smoke trail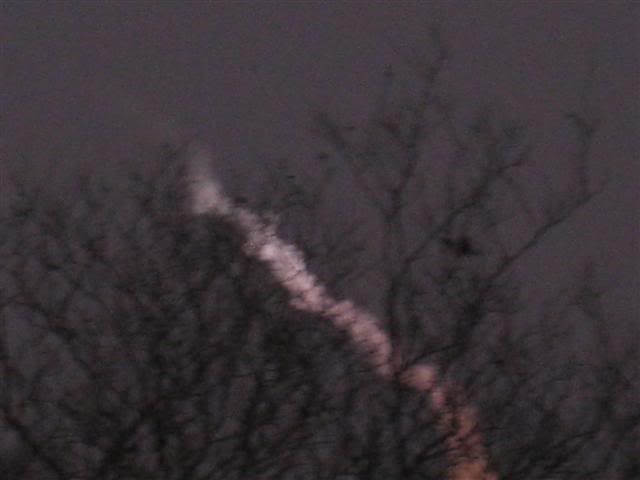 That star looking thing is the boosters falling back to earth. Remember, we're clear across the state!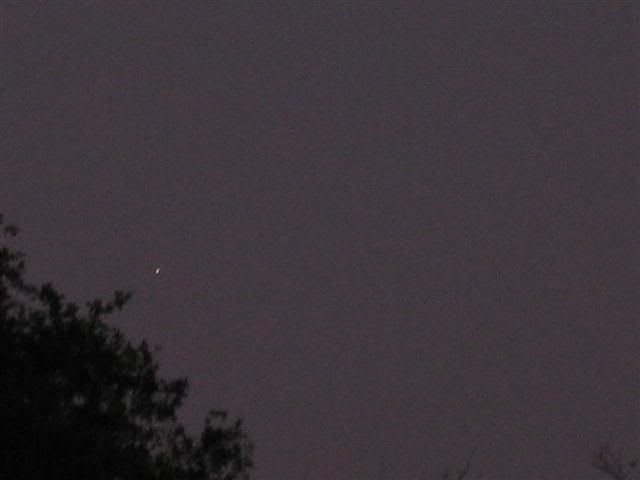 St Patty's Day was Tuesday and Logan had to make a leprechaun trap for school. I'm not an engineering major (or minor!) so this was the best I could do. The one dh made for Ian last minute was far better. It had a fake floor and trap door!
That morning they visited our house first. Thet left a box of Lucky Charms cereal and turned the milk green. They also left some green beaded necklaces for the boys to wear. His class loved when they came back from lunch and they had been visited by those little green men. They left footprints, peed green in the class bathroom and left some candy.
Other than that our week has been pretty much the same old, same old. I'm still trying to pick a date for Bella's birthday. More than likely it will the the 1st weekend of April. No competing with her uncle's 40th birthday that way. I've gotten most of the stuff I needed and her birthday dress came in the mail today! It's so cute! I can't believe she's almost one already. It seems like I just had her. Time goes by way too quickly!