Dh and I got married 10 years ago today. Where has 10 years gone? He doesn't read my blog so I won't get all mushy on you but I will say I love that man dearly. He's a wonderful husband, father and friend. Here are some pics from soooo long ago. (forgive the quality, they were scanned in)
Before becoming Disney fans we were Universal fans. We went all the time! It was our first date.
May 22, 1999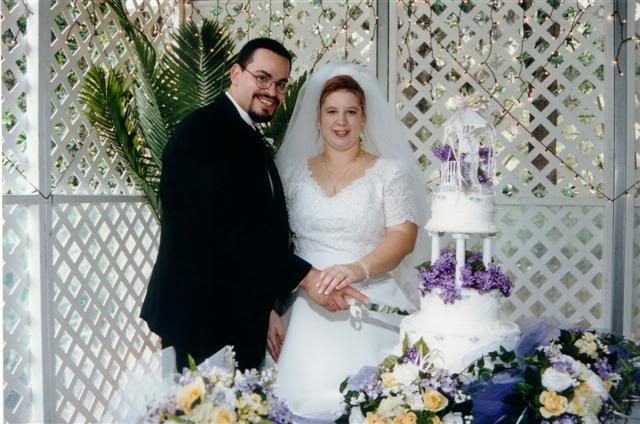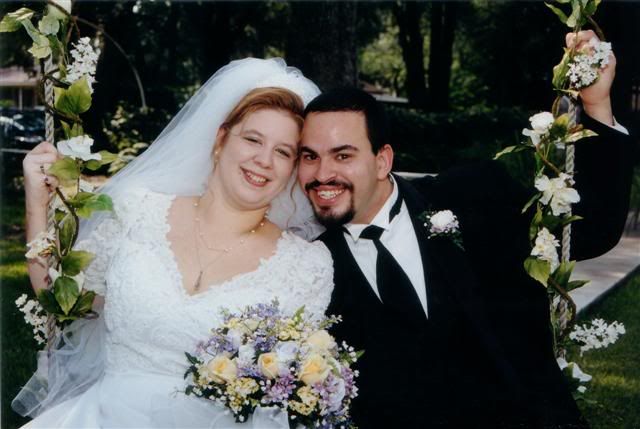 We are pretty low key people so we went out to dinner tonight at California Pizza Kitchen with the kids. At dessert time I told the waiter it was our anniversary and that I didn't know how dh and I stayed married for so long since he picked apple crisp and key lime pie for dessert when there's options like Sticky Toffee Pudding and Red Velvet cake. LOL When he came back with the desserts and the check he told me he had told his manager it was our anniversary and they gave us 50% off our dinner! Woohoo!! Oh and he picked the Apple Crisp and I got the Sticky Toffee Pudding. LOL It was goooood!
As for gifts, I got him the laptop cooler he wanted. He ended up getting me a Netbook that I've been talking about. I was really surprised! We are going over to the mall tomorrow to pick out a small piece of jewelry to represent 10 years too.
Happy Anniversary to us and here's to 50+ years more!