I got this idea from my bargain board recently and it looked so cute and easy that I decided to try it. The foam is toxic so I wouldn't do this as a kid project. They could sprinkle the glitter though.
Cast:
DAP-Tex Multi-Purpose Foam Sealant
Cupcake liners
Cardboard (optional)
Glitter
Seed beads
*Berries*(I used a Christmas berry sprig)
Eyepins (got from the jewelry area)
Cord (not pictured)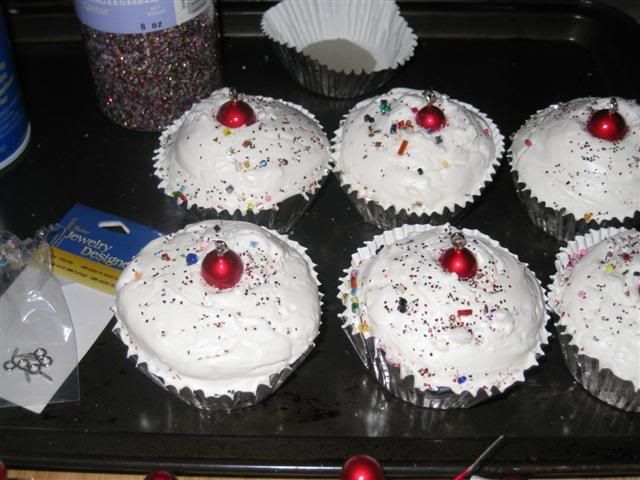 Using an old muffin tin, put a cupcake liner in each and add a circle of cardboard to the bottom. I used a cut up cereal box.

Take each berry off the stem and using a jewelry eyepin, screw it into the berry where the stem came out. Go ahead and do all your berries before starting your cupcakes.

Shake, shake, shake your can of foam, add the straw and pull off the tab. Squirt foam into liner in a circular motion. It does expand so don't go too high. If you end up with a swirl on top, you can flatten it out with a finger or plastic knife.
Once it's filled, quickly add your berry (cherry), your beads and glitter. Optionally, you can add paint to them. Do each cupcake seperately. The outside foam dries quickly. Let them sit for a bit before moving. They will probably take several days to cure/dry completely on the inside but you can move them once the outside is set.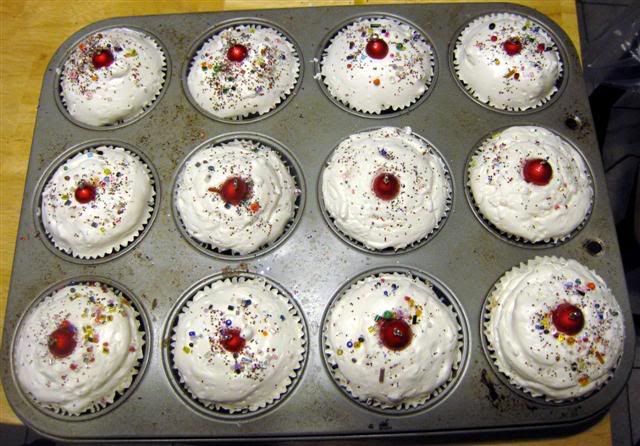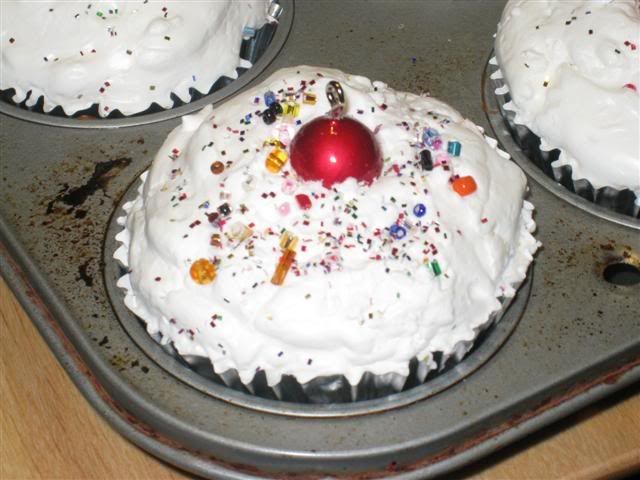 Once dry, add your cord or ribbon to the eyepin, tie in a knot and it's ready to be hung on a tree or given away! These are super lightweight and cute!