This will be a boring post but there will be some pics at the end! :)
Before I hit the stores, I had to hit the bank. I haven't been in 3 weeks! Thank goodness our tax money is in there! Gas is too darn expensive to run over there every week.
So today was shopping day. No, I didn't go shopping for myself. In fact, I returned 2 tshirts to Costco I had bought earlier this week. I did however do some stocking up at Costco on stuff that's less expensive than Publix (sorry Publix- it's harder times!). I've shopped at Publix so much that I pretty much know what I'm paying on stuff I buy week to week. Publix brand organic milk is actually cheaper than Costco brand right now btw and things like Eggos are on sale this week at Publix making them much cheaper! I bought Boca burgers, broccoli, snacks, organic juice boxes, etc. today though. I also ran to Publix for a few BOGO items like the above Eggos. I did have to come home and feed Bella in between but I guess I would have had to come home anyway. Frozen stuff will only last so long in the trunk (even with a freezer bag).
So before I left this morning, I got some pics of the boys out working. Logan lasted maybe 5-10min (even though he said he wanted to earn some $$). Dh said Ian did a better job. LOL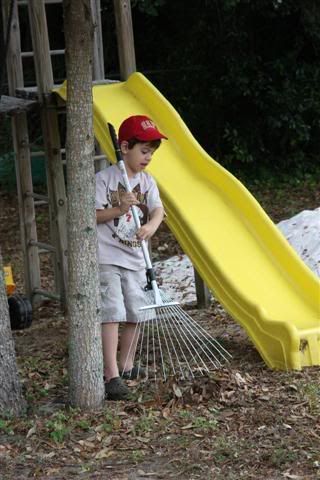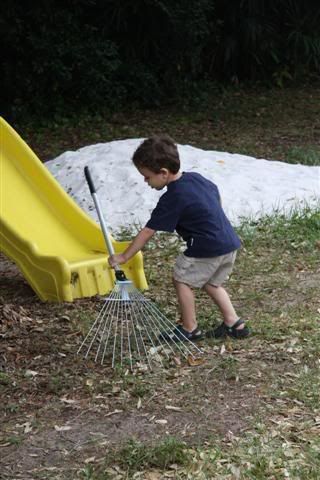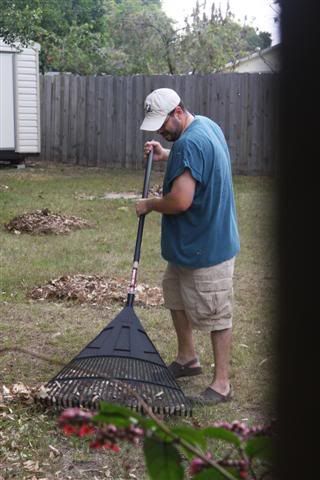 Unfortunately, every single pile of leaves is still sitting out there and nothing else got done. Well, I take that back, we had some Verizon problems this morning and they were supposed to come back out so dh did clean up the kitchen/dining room area- at least somewhat.