I think I'll give you a little bit each day this week so I have plenty of blogs to write and I can keep you all in such suspense as to how our trip went. I know it was only a 2 day trip but I have a lot to say! ;)
Friday night we checked into the Holiday Inn SunSpree. It was an okay hotel. It had some nice features but a Disney hotel it was not. Dh commented on how dirty it was (I never noticed) and how there were people smoking everywhere (did notice that). It had a kid's movie theatre, arcade, kid's pool and regular pool, and "basketball court" (maybe a quarter size one- out in the parking lot). It also had a kid's check in desk where they could get goodie bags although all I saw were some coloring pages and single crayons. The rooms were called "Kid Suites". They were a slightly larger than average hotel room with half of the room partitioned off into the Kid's Suite. Our KS had bunkbeds, a toddler bed, and a TV and desk/dresser area with 2 kid size chairs. #1 problem- it was dark in there but we could live with that. #2 and major issue- the bunk bed ladder was loose as was the top protective railing! We had Logan sleep in the bottom bunk and Ian in the toddler bed. We brought Bella's pack n play so she had her own familiar bed. There was also a small kitchenette in the room. We had a king size bed that was no lie- ROCK HARD. We would have slept better on the floor. Both dh and I are complaining about back pain from sleeping there. We did nothing but toss and turn. Horrible. Dh says never again will we go stay somewhere that's not Disney. I say we'll just find a better hotel or a condo. Here are some pics of the room...
There were 2 chairs and a small table as well as the tv stand/dresser across from the bed.
The TV and desk are off to the right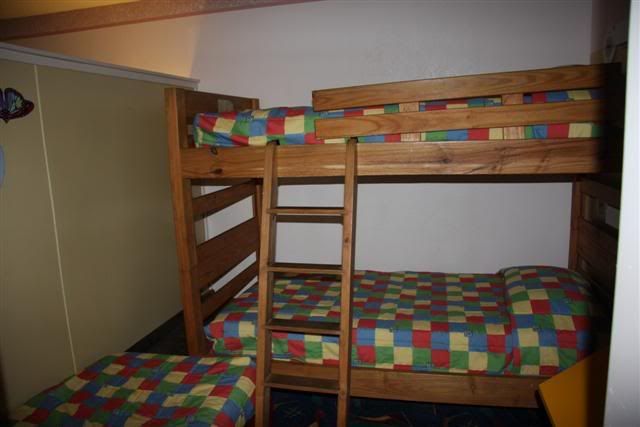 Kitchenette. The safe was under the counter.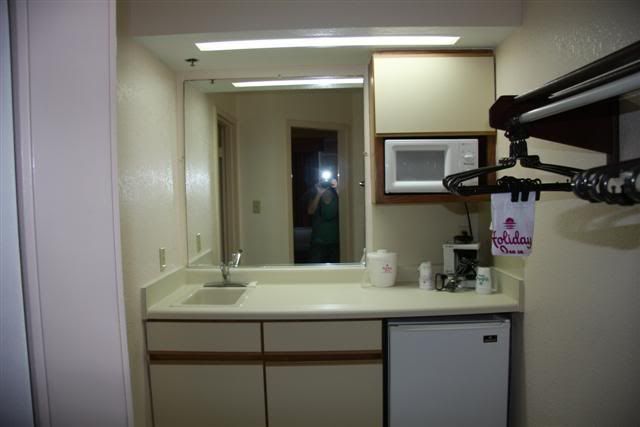 Decent size bathroom- the whole right side was mirrors. The sink is behind that wall.
Bella hanging out on the king size (and royally hard!) bed.
Part 2 tomorrow...