Star Wars Weekend(s) is why we went to DHS in the first place. My boys love SW. They can both name characters I don't know. Logan even corrected dh on the correct name of one of them yesterday (dh said Sand People which is correct but I guess technically they are Tusken Raiders).
At SWW there are actors you can get autographs for if you get in line early enough like Warwick Davis who played Wicket (also Willow in the movie Willow and also in Harry Potter). We saw them in the parade but didn't care about autographs so we walked around the park looking for other characters. I'm not a big SW junkie but it was neat to see all the characters walking around. The boys were taking it all in. Ian wasn't so gungho about going up to them though like Logan was. He's fine with giant ducks and mice, but forget StormTroopers and Jawas. ;)
At one point we saw Chewbacca. We pointed him out to Logan and got a few pics with other people in them knowing we wouldn't get thru the line. Next thing I know, Logan is gone! He apparently line jumped just to stand next to one of his fave SW characters! Chewwy didn't even know he was there. LOL We did get a few pics though before scolding him about walking away from us and line jumping. Poor Logan. I know he was just super excited.
I can see us doing this again next year (heck I'd go again this month). It was fun!
Can you imagine how HOT these costumes are??
Chewbacca

And a few parade pics. What's neat is that you can sign your kids up to be in the parade as Jedi Trainees.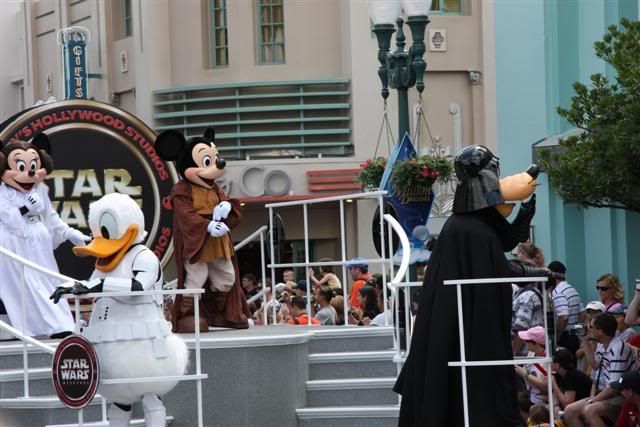 Tusken Raider aka Sand People (if you look in the crowd you'll see someone dressed in Jedi garb- there are regular people who dress for this event)

Warwick Davis

Boba Fett (I had to ask Logan LOL)