Did I mention how horrible the beds at the hotel were? After reading comments about the Nick Hotel (also a Holiday Inn) I don't think we'll be staying there...ever. The next hotel I pick will have "pillow top mattress" in the description of the rooms. Thank goodness for my bed last night!
So anyway... Saturday morning we got up bright and early to head to Disney's Hollywood Studios. We had reservations at Hollywood & Vine at 10:05am for breakfast so we fed the kids a light snack beforehand. We got to the park shortly after opening (like 9:05am) and after watching the StormTroopers a few minutes we went straight over to Toy Story Mania to grab a Fast Pass.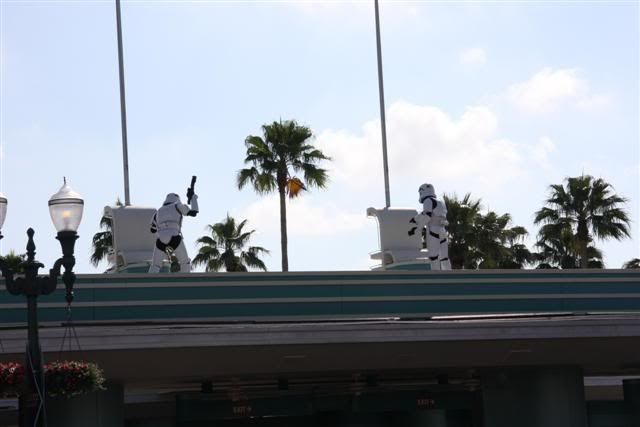 Fastpasses were already set for 11:45-12:45! I think the stand by wait was 70min at that time already. Wow. After that we wandered around a bit until it was time for our breakfast. I was wearing Bella that day and the CM (castmembers) were kind enough to let us bring in our double stroller so I wouldn't have to eat over her head.
She loved looking around and was staring at the characters. She didn't know what to make of them!
We also met up with Stitch!
I'm not sure what Ian's doing but it's not what it looks like! LOL