I love people watching, especially at Disney where there are people from all over the globe. The Japanese are fascinating. I've seen some crazy outfits from some of the girls. I saw one girl this weekend with a knee length dress with lace accents and a high turtleneck, thigh high printed socks (not stockings) and strappy sandals.
I see man-pri's are still popular with the European crowd. These can't even be decribed as Lorts as those are clearly just long shorts. Man-pri's as I like to call them are not.
Certain items of clothing are CLEARLY inappropriate at Disney World. If you didn't know, there are a lot of kids around. Noone wants to see your ass! Not me, not my husband, not the castmembers and certainly not my kids. Someone should have pulled you aside before you entered the gates and told you to go find something to wear that covered your whole butt. Seriously. Leave a little something to the imagination. How is that even comfortable??? It's hard to look away isn't it?
Not quite as bad but there are certain things you should not wear. Especially if I can see your underwear thru your black shorts. Lady in the grey shorts isn't much better. Looks like a butt camel toe. (It may be hard to see what I'm talking about. I didn't want to zoom in though)

This must be redneck chic. Ripped at the bottom jeans, boots and a tux jacket. I'm guessing they were at a wedding earlier in the day and there'll be a reception later.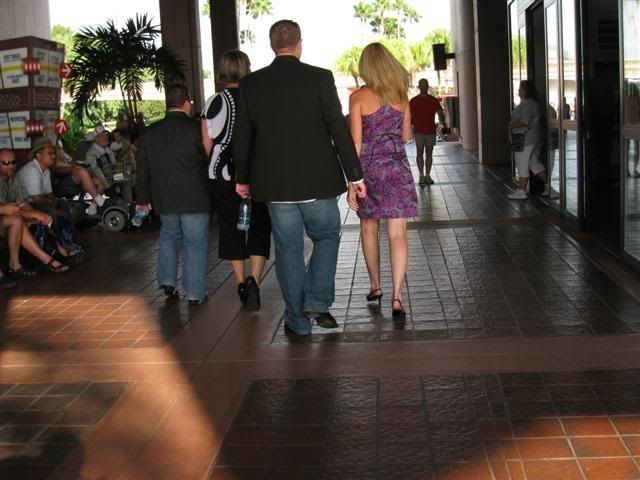 Nothing, nothing can beat that first photo though. I hope I didn't burn anyone's eyeballs!