Here are our Epcot Food & Wine Festival pics! Be forewarned, this post is picture heavy and there will be more pics in the coming days/weeks. Dh wants to take his mom next week and I hope to go with just the girls too if everyone can get their schedules together.
In my hunger, I forgot to take pics of everything so you'll just have to imagine some of it. Sorry!
San Juan, Puerto Rico
-Frozen Mojito $6.50- My mom got this. She said it was only okay but she doesn't like mint. I tasted it and thought it was pretty good.
-Mofungo (green plantain mash with pork cracklings and Shrimp Salsa) $3.75- This was interesting and not bad but I wouldn't buy it again. It needed more of the salsa.
New Orleans, Lousiana (No pics)- I don't remember which was which but I thought they were both very good!
-Cajun Crawfish Etoufee $4.00
-Seafood Gumbo (shrimp, crab and catfish stew) $3.75
Oh I lied, here's a pic: Before you get all grossed out, it's not what it looks like. The guy delivering the food dumped a huge container of it on the ground splashing a very drunk guy and his wife. Drunk guy walked over to us at one point and was talking (slurring more like it) something about "what's wrong with the world" and sueing the big corporation or something. I had to warn more than one person not to step in it as noone was paying any attention!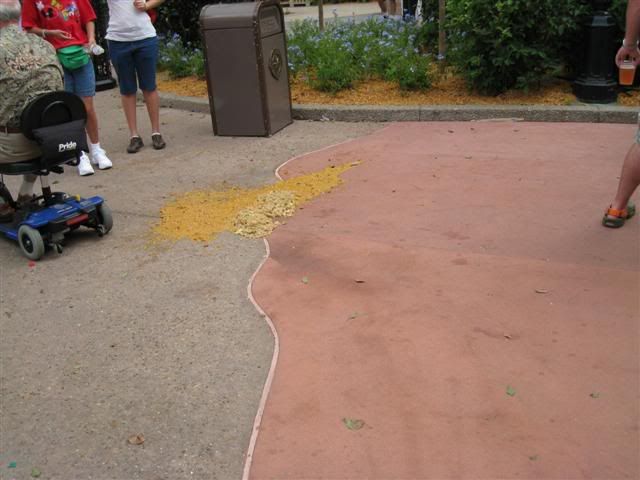 Lyon, France
-Escargot Persillade en Brioche (snails with garlic butter in brioche) $4.50- YUMMY as usual!! If people would only adventure a taste, I think they'd love this. It's really more garlic butter and bread and it's just so mmmmmm. (Sorry about dh's hairy leg in there LOL)
-Quiche au Fromage de Chevre et poireaux (goat cheese and leek quiche) $4.00- Dh loves this.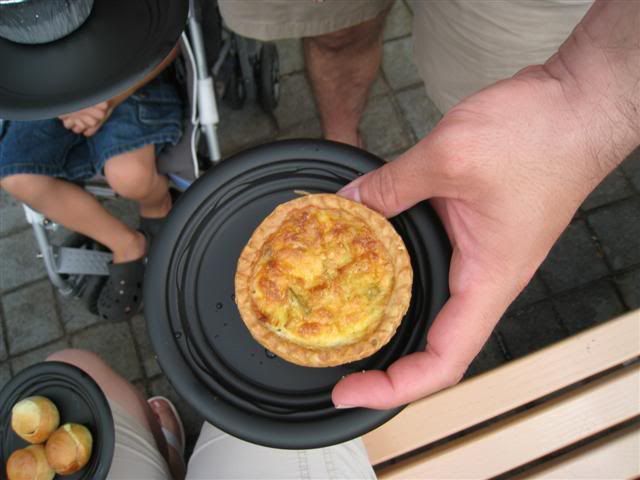 -Creme Brulee Chocolat au Lait (milk chocolate creme brulee) $3.75- this was okay. I thought creme brulee was supposed to be thicker but this was the consistency of a thinner pudding. Ian liked it as well.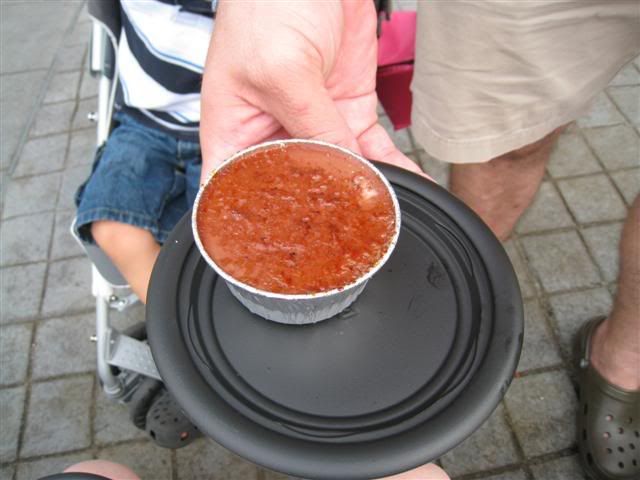 Munich, Germany (no pics)
-Spaetzle with Creamy Mushroom Ragout $3.25- I had this last year and liked it. Dh tried it this year and thought it was like pasta with cream of mushroom soup. LOL It was full of mushrooms though and looked good!
-Regensburger Sausage with sauerkraut in a pretzel roll $3.75- Mom had this and liked it. I don't care for sausage of sauerkraut myself.
New Delhi, India
-Samosa with Tamarind Sauce (spicy pea and potato pastry) $3.25- This is dh's favorite. I didn't try it this year and mom had a bite but didn't like the sauce.
-Mango Mousse $1.75- I don't care for mango but this was really good! It had some chunks of fresh mango and the sauce on top also tasted very fresh. The kids loved it as well.
Shanghai, China
-Chicken Sha Cha $3.50 - Mom and I tried this. I warned her on the bad reviews. The taste is okay but the texture of the chicken is just weird!
-Ginger Caramel Ice Cream $3.25- This was yummy as usual. It's got pieces of candied ginger in it and has a good flavor. You get a decent size cup of this too.
Melbourne, Australia
-Pepperberry Prawns on the barbie with sweet potato hash $4.75 - Not worth the price. You got 2 shrimp and while mom liked the sweet potato hash, I didn't and gave her mine. (no pic)
-Wattleseed Mousse (coffee-infused lady fingers with wattleseed filling) $2.75 - This was different. It was like a custard cake and it was def. coffee flavored. Not bad.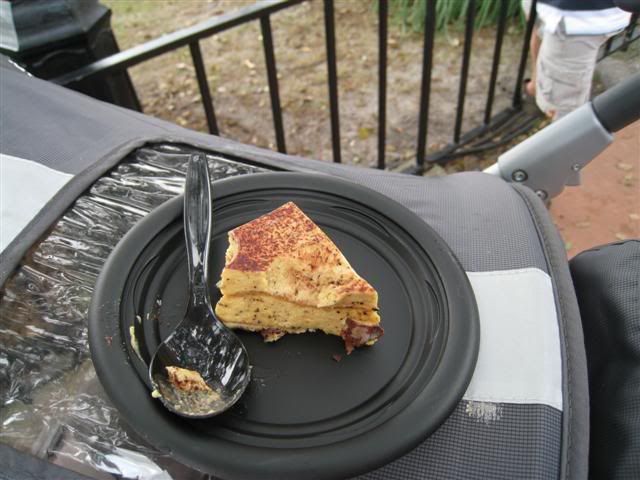 The Mouse Catch
-Trio of Cheese $4.50
--Asiago Pressato, Italy (cow's milk cheese)
--Manchego, Spain (sheep's milk cheese)
--Dorothea, Holland (goat's milk cheese with potato and basil oil)
No pics but this was really good! I love cheese! The Dorothea got a thumbs up from everyone. The basil really came out in the flavor of it. Ian, my little cheese lover, ate every bite we gave him. Logan wouldn't touch any of it. LOL
That's it! I think dh was a bit disappointed this year as there were not many vegetarian choices. He ended up eating a sandwich over in The Land (veggie cuban) which he always loves. I was full by the time we made it all the way around. Little bites here and there can really do it although I think I would have made room for more escargot. ;)