We packed everyone up today and headed off to the Magic Kingdom. We got there about 20 min or so after opening and we actually got to park right up front. I mean a very short walk to the TTC- no trams even bother stopping here. Nice!
Our first agenda was grabbing Fastpasses to Space Mountain, especially considering the crowd size! There were Brazilian tour groups everywhere. Ugh. Logan had never been on it before. I don't know why except that it's the one coaster I was nervous to let him go on since he'd have to sit by himself. From there we went straight to ToonTown via a semi-hidden back pathway and got in line to see the new Disney Fairies at Pixie Hollow. Yippee! :) It was a long 45 min.wait! When they call you back (a few families at a time) they tell you that you'll be shrinking down to fairy size. Well that just freaked Logan and some other kids out. They did NOT want to shrink. We had to explain to him that it was just pretend and he seemed okay with that. When we got to the fairies and I commented again on how it wasn't so bad to shrink he didn't get upset but he still looked at his hands and such to see if he had changed. Hahaha!
Iridessa- a *light* fairy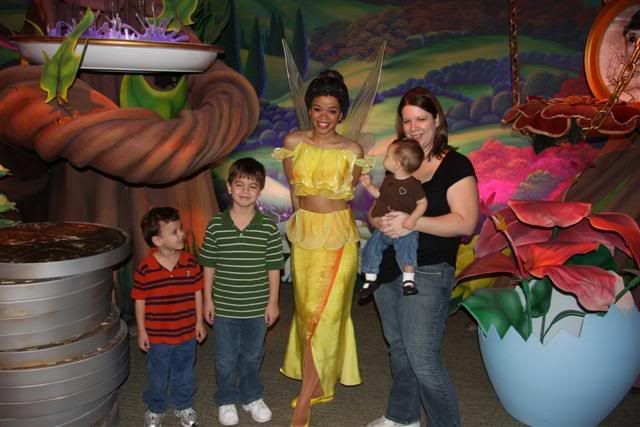 Tinkerbell- a *tinker* fairy
Fawn- an *animal* fairy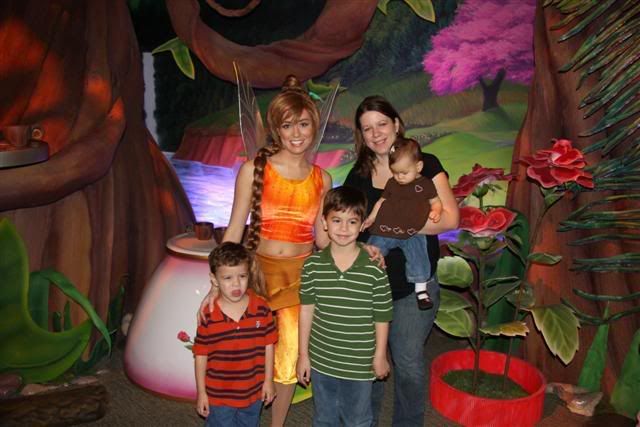 And a little tidbit- did you know that everytime a baby laughs for the first time, a fairy is born? I watched the Tinkerbell movie the other day and it's so cute!
The boys and I did Thunder Mt RR which Ian really likes and of course it's one of Logan's favorites. Logan did Space Mt with daddy and when I met back up with them Logan had THE biggest grin on his face. He LOVED it. If the park wasn't so busy we probably would have let him go on again. We did Buzz Lightyear which is one of Ian's faves and dh went with them to the Indy Speed Racetrack. We took Bella on It's a Small World thinking she'd love it and she was asleep the whole time. Oh and of course they did Pirates. We never miss it.
Dh decided to record everything from a stroller occupants POV. That should be interesting when we finally play it back! I'm imagining a lot of butts and backs on film. I wore Bella almost all day so at least she had a better view. And at the risk of jinxing it, I will just say that she is the best baby. She's so mellow and go with the flow when we are out and about. She'll nap if I'm wearing her. She doesn't scream for food and ate when we ate plus some cheerios for snacks. She did try her first Dole Whip and loved it. LOL Yeah, I had no idea until the boys and I came down from the Swiss Family Robinson treehouse. I took her to the Baby Care center to nurse her after dinner (less distractions) and she was so good. She nursed and when she was done we went to the other room and hung out on the floor playing until daddy and the boys came back. I've just been blessed with another good baby I guess.
I saw quite a few fashions that shouldn't even be called *fashion*- like four color neon sneakers or leg warmers ( or REALLY super thick scrunchie socks) with heels. And here's a PSA for all the ladies- if you can see your bra thru the sides/arms of your shirt, the shirt doesn't fit right AND if your boobs are popping out of the top of your bra in said shirt, the bra doesn't fit either.
All in all it was a good day. I wanted to stay longer but dh's back has been hurting for a week so he wasn't up to it any longer. He refuses to go see someone though or even call my Aunt who's a massage therapist. He'd much rather suffer. Whatever. That's a whole other vent/post!
my found *hidden mickey*- so it's not exactly an official HM but I noticed it as we were eating our Dole Whips and thought I'd share.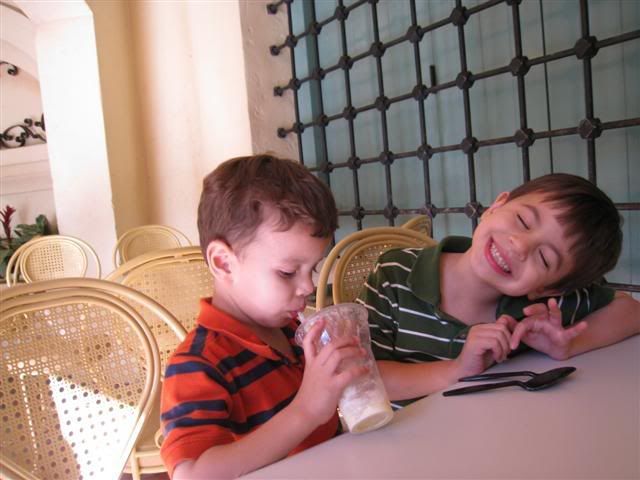 Ever see a palm tree like this? I'm not sure I've ever noticed it before.