It all started when I went to clean out my car. What a mess! Dh came out to help and when he was done, he started cleaning his van and then washing it. While he was washing his van, I decided to install Bella's infant seat. Well that was fun! I decided to move things around a bit and Bella is now on the outside seat with Ian in the middle and Logan behind the driver. I think it will be easier to get the bucket seat in and out plus she's more protected than Ian would be in an accident. All seats are in tight, tight, tight! Logan's seat is also tethered finally as he's hit that over 50lb mark in his Husky. To anyone that has a Honda Pilot- you CAN get 3 harnessed seats across! It's going to take some getting used to trying to buckle Ian in the middle though- especially with my big belly in the way! I may have to kneel over the front seat to do it.
Yes, I know I shouldn't have that mirror there, but dh will be putting some zip ties on it so it won't fly off in an accident. I have to be able to keep an eye on Bella with Ian sitting next to her.
After installing the seats, dh washed my car and the boys helped. Then the real fun began... how many states do you know that you can do this in the middle of February? It was a beautiful warm, breezy day. Perfect for playing in the water.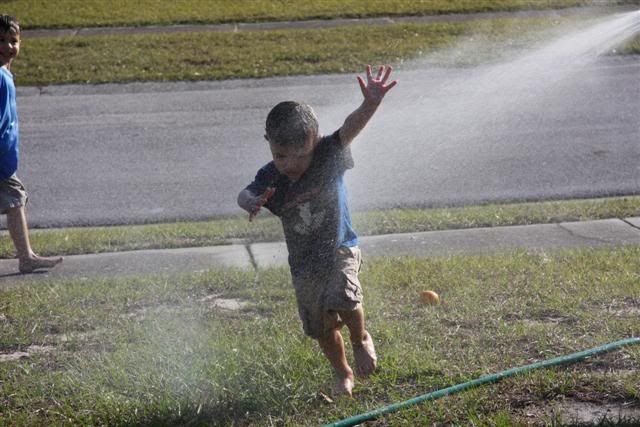 Oopsie! This is what happens when you're a skinny kid and your pants are wet!