My birthday is this coming Tuesday and lookie what I'm getting....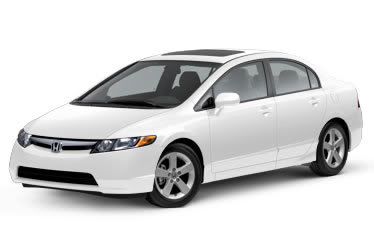 It's a 2008 Honda Civic EX-L.
White with tan leather (ohhhh)
Moonroof (ahhhh)
Isn't it purty??
I can see my girlfriends reading this right now thinking OMG! She's so spoiled! Yeah I see you Julie and Jen!
But fear not, this car is not really my gift...it's dh's new car for getting back and forth to work and I'll be driving it only at night or if I'm going somewhere by myself. You won't see me arguing though. I LOVE cars with moonroofs. I miss my moonroof. And I love the new car smell. Mmmm. I can't wait to see the car in person. It's brand spanking new but had some scratches on the bumper so they are fixing those first.
So what will I really get for my birthday this year..... stay tuned!