This thing is the shiznit!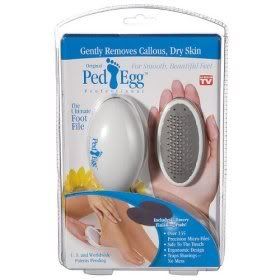 I've heard all these great things about it from the girls on the bargain board so I bought one at Target. My feet aren't that bad really, but I do get that dry skin on the heels sometimes. It looks like a cheese grater. Kinda scary to think about. But it really does work and doesn't hurt at all. You just rub it against your dry skin and it leaves your feet really soft and smooth. It even collects all the "shavings" in itself so you can just dump them when you are done. No mess! So if you can't make it to the salon to get a pedicure, do yourself a favor and go grab one of these! You'll thank me for it later. :)
Oh and if you want a bargain price, go look for it at Bed, Bath & Beyond or Linens & Things and use a 20% off coupon. It's only $9.99 regularly.